AMS  
Central Controller
Benefits :
– Maximum energy and cost savings by reducing off-load times to a minimum
– Operating all the system compressors to the narrowest pressure band
– Complete overview of the status of the entire compressed air station
– Increased system reliability
– Reduced maintenance cost
Features :
– There are controls that support a variety of applications (Rotary or Sequence Control, Turn-back, etc.)
– Can connect in many ways according to actual usage (single loop, multi loop, master-slave, remote i/o, etc.)
Flexible configuration :
– Four modules for AMS-4, 8, 12, 16 and more.
    AMS- I, AMS- II, AMS- III, AMS- IIII
– The system also accepts compressors from all brands.
– Various peripheral equipment can be connected such as temperature sensors, flow control unit, flow meter, pressure dew point, operating state of dryers,auto drain, waste water treatment, control valve etc.
Special Features :
– Integrated web server Using the optional web server module can be visualised externally on a PC module using a standard browser via local network (LAN).
– Datalogger
Energy consumption,volume flow rate, pressure, temperature.
Share Information :
AMS series communicates effivienty with business system and databases.
Database (SQL Server, MySql, Postgressql, etc..)
Report (Excel, Pdf)
Export CSV file
SD memory card : SD and SDHC
MODBUS Ethernet
MODBUS RTU
OPC
Web Server
SMS or Email
Technical Data :
Wide screen format
Wide operating temperature -10°C to +60°C
Powerful ARM Cortex-A9 processor
Powerful dual or quad core ARM Cortex-A9 processor delivers fast screen changes and program execution in demanding application.
SD memory card
USB Port : 1 x USB 2.0
Ethernet port
AMS
Central Monitoring :
 100% pure web base software
Can be accessed via any standard web browser w/o single download/plugin
Responsive HMI
Minimum system requirements compared to others
Real-Time remote data synchronization
Real-Time Database
Real-time display of warning message
Real-time trend and historical
Open data connectivity

HTTPS secure web connection

SSL encryption

Data protection

Internet Gateway connects your SCADA on cloud
Emerging to IIoT world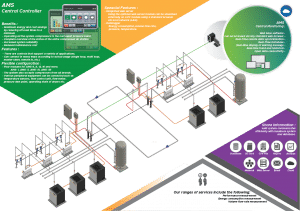 Sequence Control Simulation :